We were privileged to celebrate Kenina Court last night at the CAANZ Annual Fellowship Awards Dinner as she was awarded the FCA (Fellowship of the Chartered Accountants Australia and New Zealand).
This is a huge honour and has been described by Liz Hickey, Life Member and former president of CAANZ, as rewarding those who have 'made outstanding contributions to the profession through participation in their professional bodies, services to the community or teaching, research or writing within the field of accountancy'.
Further it 'reflects the high esteem in which these members are held within the profession'.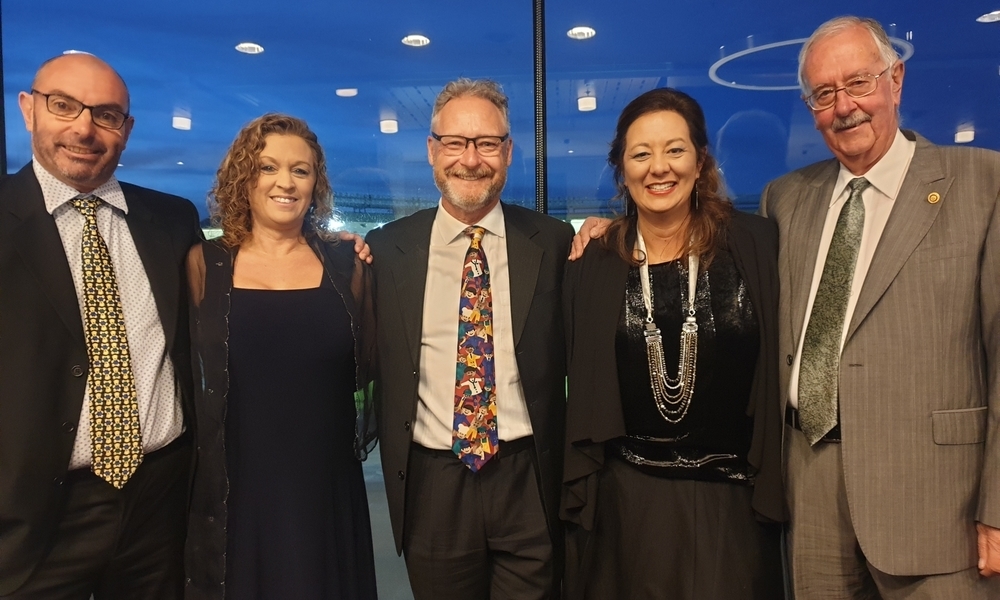 Kenina Court with business partners Richard Orsbourn and Tracy Morton, husband Allen Court and father Duncan Gillanders.
Despite receiving such an honour, Kenina has and always will remain humble and accessible and is well known for giving her time and expertise to those around her and to the wider community.
Kenina is a Director of the Banking Ombudsman Scheme, an independent dispute resolution for the banking industry, the Chair of the Pacific Island Chartered Accountants, and a director of Oceania Career Academy, a PTE that works with young people at risk from disengaging from the education system and getting them into one of 24 trades.
In business, together with Pathfinder Solutions business partner Richard Orsbourn, Kenina offers her wealth of knowledge and experience to Business Owners and Investors. Driven by a genuine passion to help, and to improve the lives and wealth of those around them, Kenina and Richard deliver Advisory and accounting services with a focus on simplifying the complex through practical and actionable advice and strategies.
Congratulations Kenina Court FCA.
About Pathfinder Solutions
Pathfinder Solutions advisory team members have either owned or managed businesses, or are investors themselves, so we know first-hand the challenges you face in your world.
Sure we're Accountants, but the best solutions in business come from focusing on more than just the numbers. Our real-world business experience delivers just that.
Talk to us – we're here to help